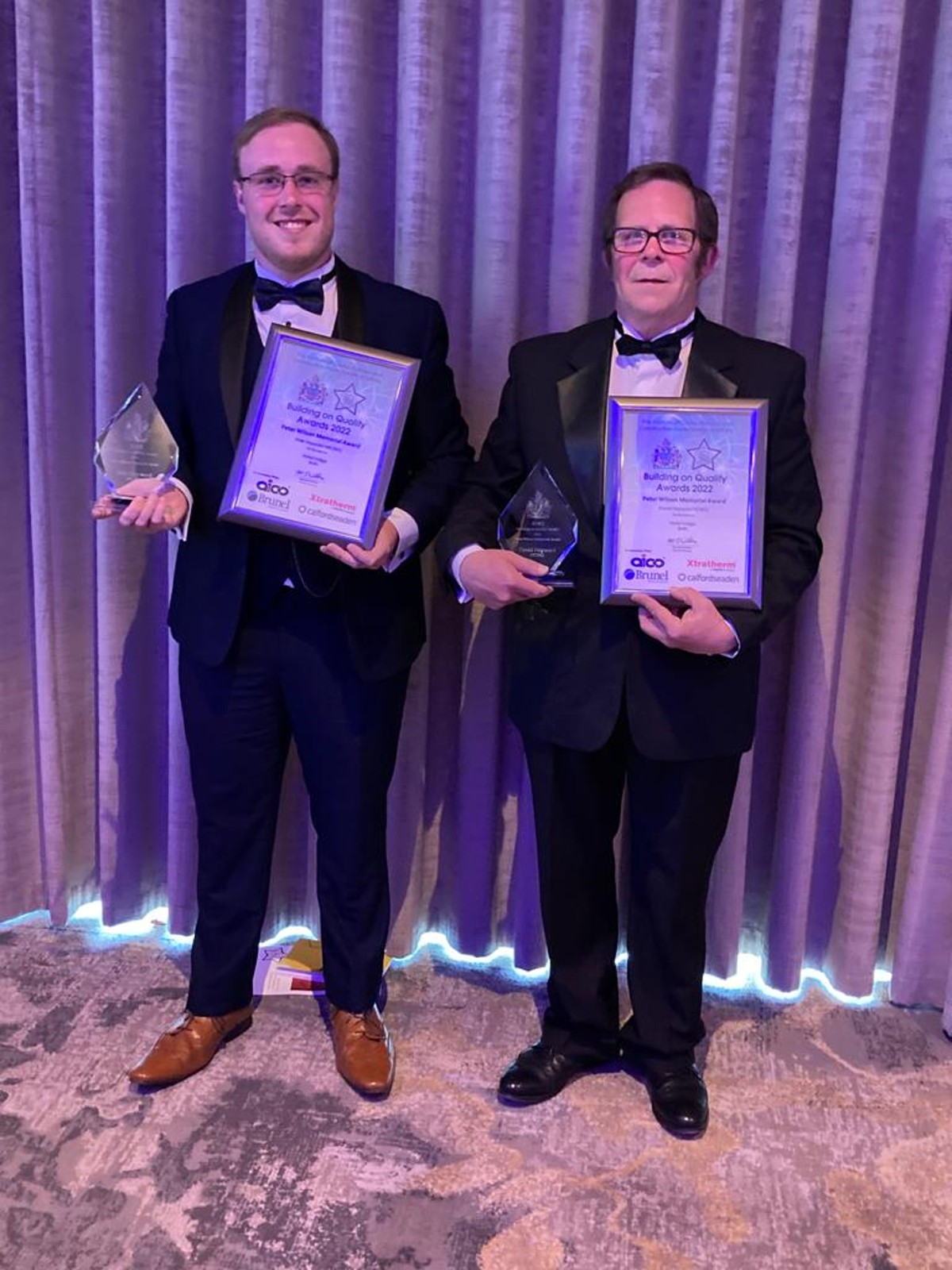 We are proud to announce that our father and son team David and Dale Hayward are the recipients of the prestigious Peter Wilson Award 2022. They have been given this award for their work on the grade 1 listed Indigo Hotel in Bath. This was a large, complex, and challenging project which both David and Dale displayed great passion towards throughout.
More About David & Dale
Both David and Dale work in our Clerk of Works division at John Burke Associates. David was appointed as Head Clerk of Works, mentoring his son Dale as Assistant Clerk of Works. Dale worked on this project whilst completing a BSc (Hons) Construction Management Degree. They enjoyed working as a team, especially when they discovered the original Architects were also father and son.
The Project
The project was to enlarge the Indigo Hotel at South Parade in Bath to include connecting buildings within Pierrepoint Street and Duke Street. The development was to provide a total of 166 rooms with associated facilities. This involved the restoration, renovation, conversions, alterations, and extensions of the six-storey building.
The History
The buildings are Grade 1, Grade 2* and Grade 2 listed and form part of an architectural set-piece c1743 to 1749. As mentioned earlier, the original architects were also a father and son team, John Wood the Elder and John Wood the Younger. The properties are constructed on stone vaults and the ownership of the property have a boundary in the centre of a main road. This is because the vaults extend below the highways.
Clerk of Works
As Clerk of Works, their main involvement was recording, photographing, and sketching the original historical features. This is so that such features can be removed for the stabilization and builders works and replaced afterwards. Such features included historical panelling, lime plaster, original coving, stairs, windows, and doors.
Site Inspection
The building inspection was an enjoyable task, as many of the items of the original building had a variety of characteristics. Often the characteristics are the biggest requirement to reflect the age of the building. As such, only the safety aspect took precedence over this. The client's requirements included out of plumb, bows, curves in walls and open texture of lime wall finish to maintain the charm of the building. There aren't any British Standards to cover much of the work carried out, but the workmanship of the craftsmen brought out much of the character. The Conservation Office and Architect gave David and Dale guidance on a variable range of acceptable standards of finish for their daily inspections.
The Award
The Peter Wilson Memorial Award was introduced in 2013 and is awarded by the ICWCI to celebrate remarkable achievements. Here at John Burke Associates we are proud of our team and celebrate their achievements. Back in 2019 our colleague Jon Tucker was also the recipient of the award for his outstanding work on the major refurbishment to the Principal Hotel (formally The Russell hotel) London.